Isn't it odd where 100 years can go? And so quickly?
Perhaps, because I read so many blummin' books or am thinking about history a lot, I feel like the Centenaries that are on the horizon have whizzed into view? I feel the events to be far closer in time to me than they actually are. When I work out how long ago something was, it usually results in my mouth agog and copious bonce scratching with a distinct look of "Eh?" on my chops.
The first Centenary hot-stepping it into view is Captain Scott's excursion to Antarctica. Well. Not so much hot stepping as fox-trotting freezing.
Captain Robert Falcon Scott.
What a wondrous middle name. Known as Con to his friends, he and 12 others, plus plenty of Ponies and a pack of dogs entered into a race of national pride and international prowess in 1911 by attempting to be the first people to reach the South Pole.
In a journey that took months just to reach the base camp, battling fierce storms, carrying more equipment than you could shake a stick at and armed with only compass for guidance and previous knowledge from a prior trip in 1904, they headed off into the jolly cold, but mesmerising stunning Antarctic.
Trekking for days in smaller teams, with the final expedition headcount to be decided, they trudged on towards their goal. Finally, Scott decided who the final team of 5 would be.
The competition was fierce against the Norwegian explorer Roald Amundsen, accompanied by his own human and canine team.
Team Amundsen set off with 52 dogs, returned with 11 and left a tent for shelter, some supplies and a letter to the King of Norway, stating the Norwegian team's claim on the pole, 33 days before Team Scott even arrived. Amundsen had kindly asked Scott to deliver the letter.
Upon the now defeated return journey, exhaustion coupled with starvation and a severe depletion in supplies - the team's health began to fail. Frostbite, falling injuries and with a mighty drop in
morale - the team made their final camp.
There is some confusion over what actually happened out there, mere miles from one of their supply depots, which could have possibly saved them. A lot of what is known is taken from Scott's diary. Not long after one of the team had perished and another left the camp tent advising "I am just going outside and I may be some time..." Scott made one final entry on 29th March 1912:-
"
Every day we have been ready to start for our depot
11 miles
away, but outside the door of the tent it remains a scene of whirling drift. I do not think we can hope for any better things now. We shall stick it out to the end, but we are getting weaker, of course, and the end cannot be far. It seems a pity but I do not think I can write more. R. Scott. For God's sake look after our people!"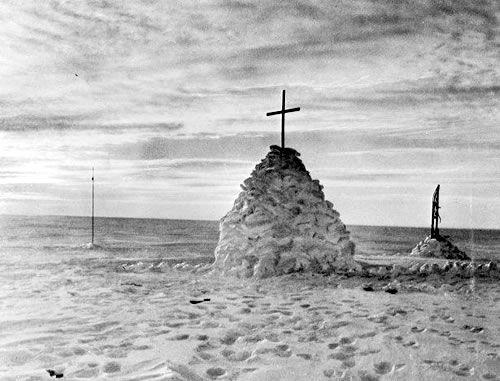 It was not until after the winter had passed that the search party were able to begin looking for their bodies. On 12th November 1912 the last of Team Scott were found, frozen, in their tent.
They were buried in a cairn of ice blocks. The cross atop was made from a pair of skis.
They only ever located the sleeping bag of the man who "went for a wander".
100 years past.
We all know, at least here in the UK, that today is Armistice / Poppy Day. And to raise money for such a fabulously worthy cause, in my humble, the brother of a dear friend is retracing the steps of Scott. Not only a Centenary voyage, but a fundraiser too.
History and Charity. Huzzah!
There are 2 teams of 3 - one team following Amundsen's route and the other, Scott's. All are serving soldiers. Mark has, himself raised £28,000 doing the expedition before. I am sure he is doing this one with his eyes closed, then.
The team aim to raise £500,000 this time. You can follow them on Twitter

@Race_tothe_Pole

.
Now, good readers. I very rarely ask directly for cash - but if you feel so inclined & could spare a spot of change in aid of a worthy cause - you can donate safely and quickly via their

Just Giving Page
Come on Mark -
trudge man! TRUDGE!!!